Get Strong, Flexible and Healthy Joints Without Harmful Medications...
Renowned Pain Specialist Discovers Breakthrough System for Naturally Relieving Joint Pain and Stiffness… in Just 14 days!
Keep reading to discover the revolutionary program for relieving crippling arthritis and other joint problems that Big Pharma does NOT want you to try because it
really works

!
Is chronic joint pain and stiffness your constant companion?
Do you suffer from agonizing joint pain in your hips, knees, wrists, shoulders or hands?
Are your joints stiff, swollen, burning, and losing flexibility?
Is it a challenge to accomplish even simple tasks, such as climbing stairs, opening jars, dressing yourself, doing laundry, preparing your meals and even tying your shoelaces?
Whether your joint pain is mild or excruciating, it can severely limit your daily activities and drastically lower your overall quality of life.
Your joint problems may become so debilitating, you may even be forced to give up the work you love and go on disability.
Take comfort in the fact that you're far from alone.
It's estimated that over 72 million American adults struggle with joint aches and pains.
According to The Centers for Disease Control and Prevention (CDC), an estimated  54.4 million adults have some form of osteoarthritis, rheumatoid  arthritis, gout, lupus or fibromyalgia.
By 2040, they estimate that an astonishing 78 million adults will be diagnosed with full-blown arthritis.
That's why even if you're not experiencing painful, stiff joints today… you're not "out of the woods" from developing them in the future.
In fact, your risk of developing serious joint-related diseases dramatically increase as you age.
"Why Do My Joints ALWAYS Hurt?"
While joint pain, swelling and stiffness can strike any part of your body, the most common places are hands, wrists, elbows, shoulders, knees, ankles, feet, jaw, and neck.
Let's dig deeper into why strong joints are so important……
You see, joints are movable connections between two bones. Different joints provide unique points of mobility and stability.  Together, your bones, muscles, and joints — along with ligaments, tendons and cartilage — create your musculoskeletal system.
When your joints are healthy, strong and flexible, they provide vital support throughout your body, and ensure you move freely and easily without pain.
Did you know that there are over 100 different forms of arthritis and related joint diseases?
The most common reasons for painful joints include…
Osteoarthritis
Rheumatoid arthritis
Bursitis
Gout
Bone erosions
Swollen joint capsules
Injuries
Strains
Sprains
Obesity
Muscle weakness
Tragically, if you're like most people, you've been looking for the solution to your joint problems in all the wrong places…
Why Dangerous Pain Medications Are Not the Solution
(and can make your health even worse)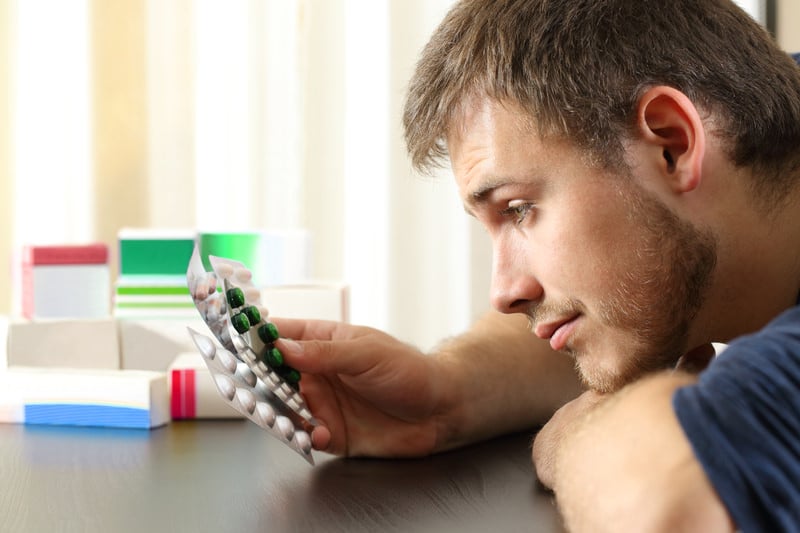 Let's face it, the medical establishment has let you down.
Most doctors only offer harmful medications to treat joint problems.
While your aches and pains may be relieved for a few hours at best… they inevitably return with a vengeance.
A recent survey conducted by the American Academy of Pain Medicine found that medications only help 58% of those with chronic pain, and the relief is temporary at best.
That's because drugs only treat the symptoms of arthritis and other joint diseases without healing the underlying cause, so you never receive permanent relief.
And both over-the-counter and prescription pain drugs come with a very high cost, and not just financially.
Some of their potential scary side effects include…
Stomach problems
Liver damage
Heartburn
Eye damage
Blood clots
Stroke
Bone loss
Stomach ulcers
Elevated blood sugar levels
Heart attack
Addiction
And many more
Yikes!
It's understandable if you've lost all hope of finding a sustainable solution for your aching joints without putting yourself in grave danger.
Keep reading for some exciting news!
Happily, now there's a 100% safe and effective way to heal your joints without any risk of harmful side effects.
Think it sounds too good to be true?  Think again!
What if You Learned About a Revolutionary New System That Naturally Repairs and Strengthens Joints in As Little As 14 Days?
What if you discovered an all-natural way to permanently heal your joints without dangerous medications?
What if you could dramatically increase your joint flexibility and function in just two short weeks?
What if you could finally find lasting relief from crippling joint pain without any risk of dangerous side effects?
What if you could gain peace of mind that your joints are fully protected from developing arthritis and other dreaded joint-related diseases?
What if you could repair and strengthen your joints in just 14 days, and reclaim the fully active and pain-free life you long for?
My name is Rick Kaselj, also known throughout the world as the "Pain Hacker." I'm a leading Injury Prevention Expert, Pain Specialist, Fitness Trainer, International Health Lecturer and acclaimed Author.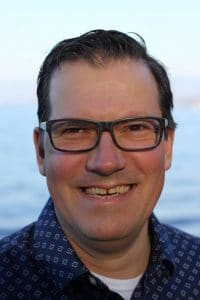 Since 1994, I've shown thousands of people throughout the world how to overcome debilitating physical pain through my groundbreaking fitness and exercise programs.
To date, I've given over 352 presentations to more than 8,152 health professionals in the United States and Canada.
I've been featured in major media outlets, including Yahoo! News, Men's Health magazine, Livestrong.com, Canada.com, Iron Man, Men's Journal, the San Francisco Chronicle, and many other leading publications.
But out of all my hundreds of successful programs for relieving debilitating pain, I'm most proud of the one I'm about to share with you…
I literally spent hundreds of hours researching the latest scientific and medical studies on joint health, and the most advanced treatments for arthritis and other joint-related diseases.
I was determined to find the most effective, safest and scientifically proven all-natural methods for repairing and strengthening joints….
So joint-pain sufferers would finally be able to flush their dangerous, expensive and ultimately useless prescription drugs down the tube.
Mission accomplished!
My All-Natural System Quickly Relieves Joint Pain and Stiffness in As Little As Two Weeks…. Without Medications or Any Harmful Side Effects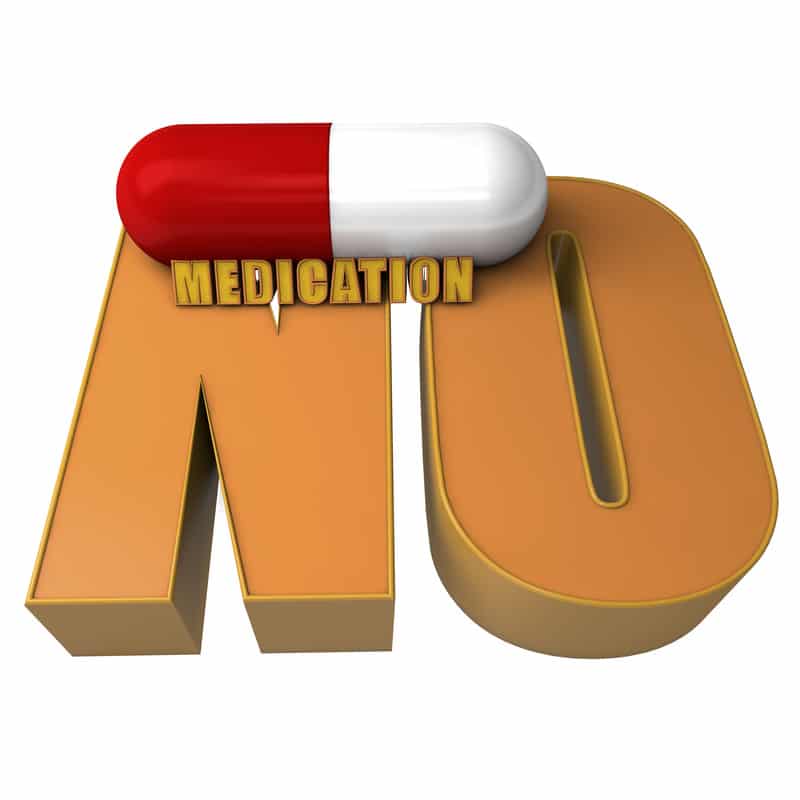 My new program is called the 14-Day Joint Recovery Quick Start Program, and thousands of grateful people throughout the world have testified that it really works beyond their wildest expectations.
I know you're going to love it!
I've included all my groundbreaking discoveries for naturally healing even the most damaged joints in this easy to follow system.
The best part? You won't have to wait months, or even weeks, to notice results.
You'll be shocked to notice less joint pain and stiffness in just 14 short days.
How does the 14-Day Joint Recovery Quick Start Program work so beautifully to repair even the most damaged joints?
I've combined the most powerful and science-based exercise, diet and lifestyle techniques that increase joint function, flexibility and strength, and also relieve chronic pain.
By following this groundbreaking system, you'll ensure your joints stay strong and healthy well into your "golden years," and beyond.
And since these strategies heal the root cause of your joint problems, you'll finally obtain permanent relief…. even if you've been living with miserable joint pain and stiffness for years, even decades.
Why Big Pharma Doesn't Want You to Discover the "14-Day Joint Recovery Quick Start Program"
(Spoiler Alert: Because it Really Works!)
As arthritis and other serious joint diseases reach epidemic levels…
It creates a booming business for the pharmaceutical industry.
They rake in literally billions of dollars each year by churning out their dangerous medications for those who suffer from brutal joint pain.
Additionally, they gaslight desperate consumers into believing their lethal drugs are the only thing that will relieve their joint problems….
Even though that's a bald-faced lie!
So, the last thing Big Pharma wants is for millions of joint pain sufferers like yourself to try our all-natural system that repairs and strengthens joints in just 14 short days.
It would literally cost them billions in lost profits!
How Much Are Pain-Free Joints Worth to You?
For most people, the chance to finally obtain healthy, strong joints is priceless.
You'll be able to reclaim your full mobility, and live the active, joyful and pain-free life you deserve.
So, how much do you think a science-based system that contains the best all-natural strategies for overcoming joint problems will cost you?
Hundreds of dollars? Thousands?
Hold on to your hat……
For a limited-time only, you'll receive the entire 14-Day Joint Recovery Quick Start Program for the insanely low cost of only….
$4.99!
No, you're not dreaming.
The regular price for the full program is $57… but I've decided to temporarily lower the price, so nobody is shut out from obtaining this "hidden knowledge" for healing joints naturally.
Get the Complete "14-Day Joint Recovery Quick Start Program"
and Incredible Bonuses for the Crazy-Low Price of Only $4.99

(Regular Retail Price $57)
Special Discounted Price
(

THIS WEEK ONLY

) = $4.99
Get 
INSTANT ONLINE ACCESS

 to the Joint Health 101 Handbook, 10 Easy Movements for Stronger Joints, Cooking For Joint Health Cookbook including the 14-Day Meal Plan and Shopping List.
Take Advantage of This Limited-Time Offer and Order TODAY…
… and Discover the Most Effective All-Natural "Secrets" to Healing Joints and Ending Chronic Pain
Check out all the amazing joint pain-relieving stash you'll receive for the rock-bottom price of ten bucks….
Our Best-Selling eBook, "Joint Health 101: How to Repair and Strengthen Your Joints Naturally"
In this remarkable eBook, you'll learn the latest cutting-edge research in joint health, and how to obtain lasting pain relief without the need for harmful medications.
By following these scientifically proven recommendations, you'll learn how to repair past joint damage, and also how to protect your joints from developing dreaded diseases such as arthritis.
You'll learn:
The best natural supplements for repairing and rebuilding joints
Topical solutions that instantly stop joint pain
Simple stretches that improve joint mobility
How to use Epsom salts to soothe away stiffness and pain
Simple exercises that help increase joint function, reduce inflammation and relieve pain
Anti-inflammatory foods to include in your daily diet
And much more!
You'll also receive in the jam-packed 14-Day Joint Recovery Quick Start Program….
Our Delicious Recipe Collection "Cooking for Joint Health: 25 Recipes to Reduce Arthritis and Soothe Joints"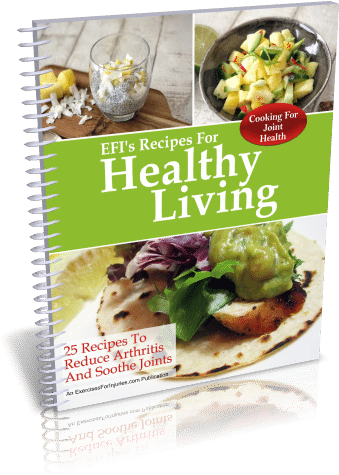 Why are your food choices so vital for maintaining optimum joint health?
If you're like most busy people, you grab unhealthy fast foods while on the run. Many foods have been shown to contribute to arthritis and other joint problems, such as sugary foods and drinks, fried foods, large amounts of wheat and dairy, and foods in the nightshade family.
Studies show that a diet high in junk food increases your risk for developing joint problems. Highly processed and fast foods create intestinal bacteria that trigger inflammation. This causes the immune system to attack its own cells and cartilage in joints, which can lead to serious joint problems.
Our team of leading nutritionists and professional chefs selected 25 of the tastiest meals and snacks that naturally reduce joint inflammation, and relieve stiffness and pain.
Busy schedule? No problem!
No matter how hectic your life is, you'll be able to whip up these scrumptious dishes and snacks in mere minutes.
Not a Martha Stewart in the kitchen? No problem!
These beautifully illustrated step-by-step recipes will have you cooking like a professional chef, even if your only past cooking experience was boiling water.
Here's a "sneak peek" of a few of the delicious dishes….
Oh, and by the way….
You won't need to stress over menu planning and shopping, as you'll have our expert guidance every step of the way.
You'll also receive at no extra charge….
14-Day Meal Plan:

Provides you with a comprehensive day-by-day menu plan to make incorporating these healthy meals into your life an easy breezy process. You'll always know which dishes to prepare for every single meal.

Shopping List:

Gives you every ingredient you'll need to create these wonderful dishes, so shopping for them at the grocery store will be a cinch.
To Heal Your Aching Joints….
You Also Need to Get Up and Get Moving!
I get it.
When you're experiencing painful, stiff joints, it's difficult to contemplate exercising.
But here's the thing….
Your sedentary lifestyle may be the leading culprit behind your joint problems!
Especially if you sit behind a desk for hours each day, and then return home and become a coach potato.
If you sit behind a desk for hours each day, and then turn into a coach potato when you're back at home….
Your lack of physical activity can be a contributing factor to your joint problems.
Recent medical studies showed that even mild exercising, along with walking, helps to reduce pain and disability associated with joint problems.
According to the Mayo Clinic, exercise is crucial for people with arthritis and other joint diseases, as it increases strength and flexibility while eliminating pain.
I've developed a series of gentle exercises that will help to strengthen your joints, eliminate inflammation, and ease pain….
Improve Joint Function and Mobility With "10 Easy Movements for Stronger Joints"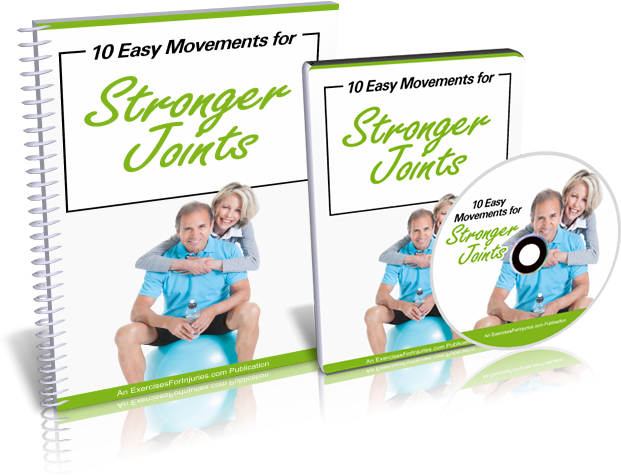 Developed by world renowned pain specialist and fitness expert, Rick Kaselj, 10 Easy Movements for Stronger Joints is gentle and simple to perform, even if you've never exercised before in your life.
Rick will be guiding you every step of the way in these virtual training sessions, so there's absolutely no risk of injury.
He'll show you how to properly perform each movement, including the exact number of reps and sets to do, along with proper form and intensity.
Unlike the competitive nature of gym training floors, there's no pressure to perform at a certain speed. You're free to progress at the rate that feels most comfortable to you.
And to ensure you always have 100% support along the way, you'll also receive….
Instructional Video:

You'll never feel alone while following these amazing joint-strengthening exercises. You'll receive all the info you need to succeed, including how many reps and sets to do, along with proper form and intensity. Rest assured, you'll always feel completely confident that you're performing the exercises correctly, while remaining highly motivated.

Follow Along Video:

Exercising can be intimidating, even for pros. In this wonderful follow along video, you'll perform each of the exercises right along with Rick's expert exercise assistant. Rick will be there to personally counts out the reps and time, and provide motivation to keep you on track.

Convenient Manual:

Refer to this convenient Manual to learn the exact start and end position photos for each exercise, how to avoid the most common mistakes, and much more.
Imagine… Super Fast Relief From Joint Stiffness and Pain in Just 14 Days!

You'll Receive Instant Access To:
Our amazing best-selling eBook "Joint Health 101:  How to Repair and Strengthen Your Joints Naturally
Mouth-watering recipes that relieve joint inflammation "Cooking for Joint Health: 25 Recipes to Reduce Arthritis and Soothe Joints"
Cooking for Joint Health 14-Day Meal Plan
Cooking for Joint Health Shopping List
Rick Kaselj's simple (but powerful) exercise program: 10 Easy Movements for Stronger Joints
Instructional and Follow Along Videos
Convenient Manual
For Just $4.99….


You'll Receive a Lifetime of Healthy, Strong and Flexible Joints
Relieve joint pain and stiffness without any risk of harmful side effects
Learn delicious, easy recipes that promote healthy, strong joints.
Discover easy exercises that increase joint mobility and function
Make lifestyle changes that are scientifically proven to protect against arthritis and other dreaded joint diseases.
Find out the best natural topical remedies and supplements that relieve joint aches and inflammation.
Reclaim the active, joyful and pain-free life that you deserve.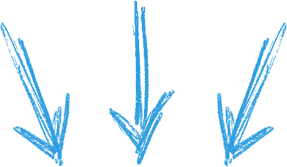 TODAY ONLY!
Get the Complete "14-Day Joint Recovery Quick Start Program" and Incredible Bonuses for the Crazy-Low Price of Only $4.99
[regular price of $57]
[TODAY'S Price $4.99]

(Regular Retail Price $57)
Special Discounted Price
(

THIS WEEK ONLY

) = $4.99
Get 
INSTANT ONLINE ACCESS

 to the Joint Health 101 Handbook, 10 Easy Movements for Stronger Joints, Cooking For Joint Health Cookbook including the 14-Day Meal Plan and Shopping List.
ClickBank is the retailer of products on this site. CLICKBANK® is a registered trademark of Click Sales Inc., a Delaware corporation located at 1444 S. Entertainment Ave., Suite 410 Boise, ID 83709, USA and used by permission. ClickBank's role as retailer does not constitute an endorsement, approval or review of these products or any claim, statement or opinion used in promotion of these products.